Artists – Show your clients how your art will look on their products with professional presentations using Create Product Mockup productd templates!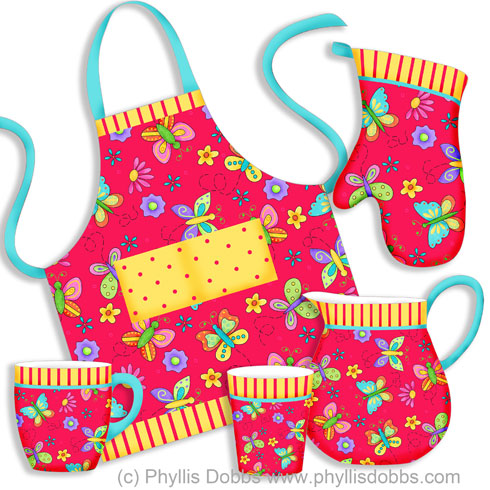 Create Product Mockups contains 105 product templates in 10 categories. The templates work in Photoshop, Photoshop Elements and Illustrator and come in both .psd and .ai file formats. Save time, money and energy in creating your mockups. Just add your art – its simple and easy! Create Product Mockups contains a wide assortment of the 10 most popular product categories for art licensing:
Tabletop
Kitchen Textiles
Partyware
Stationery
Home Accessories
Garden
Bedding and Bath

Baby & Kids

Apparel
Basic shapes for multiple uses
View a list of all the templates included. Create Product Mockups are created with:
clean vector lines to give professional product mockups
high 300 dpi resolution for sharp printing
additional design elements such as borders
a transparent area inside the template
inside product shading that can be turned off if you prefer no shading or want to create your own
One of these software programs –Adobe Photoshop, Photoshop Elements or Illustrator– is needed to use these templates. Full, easy-to-follow instructions are included. Mockups are easy to created in Photoshop with several methods:
Use the "paste" or "paste into" commands to put your images in the mockup.
Use layers and insert your art as a layer below the template. You can drag from other images.
Use the paint bucket tool or paint brushes to fill or paint areas of color.
Create Product Mockups template package is available for $59.99.
Files will be transferred electronically via Hightail so that you can have Create Product Mockups immediately and avoid shipping time and costs.
Purchase securely through PayPal or send a check or money order.
Testimonials: Phyllis, I just wanted to share with you how delighted I am with the Mock-Up Photoshop files! Wow! How awesome to be able to see my designs on these different products. I had struggled for a long time on how to do this especially after attending SURTEX a year ago and being dismayed at my learning curve! So thank you, thank you for sharing your knowledge. …….Gaby J.
I am thrilled with Phyllis Dobb's "Create Product Mockups"! I have numerous designs which I intuitively knew would be perfect on a variety of products but I didn't have a clue how to create mockups. Phyllis' easy to follow instructions and awesome templates have solved my problem. She demystifies the entire process for people like me. Now my inspirational art can go out into the world gracing all kinds of products (as a mockup) being ambassadors for my work and the numerous possibilities. It's awesome to be able to visualize what my art will look like on some of my favorite products. This new skill will enable me to garner new licensing deals. Thank you Phyllis for creating this very affordable product!…. Violette Clark