Phyllis has been creating premium fabric collections for Quilting Treasures for several years. Her fun and delightful fabrics are sought after to make colorful quilts, home decor accents and clothing, especially children's clothing. These are some of her collections.
If you would like to order these fabrics directly from Phyllis Dobbs' Studio, please email with the form at the bottom of each page. Most fabrics are in stock.
PURR-FECT BALANCE
Purr-fect Balance  features cute kitties in yoga poses. This fun collection is great for those who love yoga or kitties or both!  View the entire collection of Purr-fect Balance fabrics.
MORNING WAKE UP ROOSTERS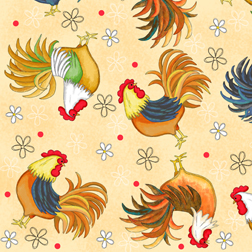 Morning Wake Up features roosters with flowers.  This collection is great for sewing for the kitchen and for quilts. View the entire collection of Morning Wake Up fabrics.
WILD FLOWER
Wild Flower, bold and colorful, was created with the "wild" of zebras and flowers.  View the entire collection of Wild Flower fabrics.
 BEE YOURSELF
Bee Yourself features 12 delightful bees – there is one for everyone, Quilting Bee, Sewing Bee, Spelling Bee, Beach Bee, Fashion Bee, Worker Bee, Honey Bee and more.  The bees form a panel of blocks with coordinating fabrics. View the entire fabric collection of Bee Yourself.
TRICKS and TREATS
Tricks and Treats features smiling pumpkins and more. Halloween is always a fun time of the year with the warm colors of orange and greens and the traditional carved pumpkins grinning with a warm glow. View the entire collection of Tricks and Treats!
CELEBRATE
Celebrate a birthday with fabrics in bright primary colors designed with birthday cakes and cupcakes. Great for table toppers, runners, wall hangings and banners.  View the entire collection of Celebrate birthday fabrics.
IT'S A DOG'S LIFE
It's a Dog's Life has 10 whimsy dogs joining the fun of every day life and activities. The coordinating fabrics make for a delightful collection. View the entire collection of It's a Dog's Life.
MEOW MEOW
Meow Meow was inspired by Phyllis' own cat's attitudes featuring cats with their sassy and whimsy ways.  Coordinating fabrics include a block panel, patchwork design and more.  View the entire collection of Meow Meow.
SWEETHEART BALLERINAS
Sweetheart Ballerinas festures graceful ballerinas – of the animal kingdom!  A black spotted cow, a yellow kitty cat and a green frog compete as ballerinas for this fabric collection.  This colllection is in two color choices – pink focused and turquoise focused with coordinating colors.  View the Sweetheart Ballerina fabric collection.