Welcome to Phyllis Dobbs' Studio
Enjoy touring Phyllis' studio filled with color and whimsy - art, fabrics, quilt and sewing patterns and much more.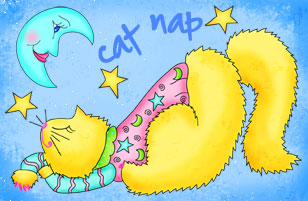 Art For Product Licensing
Fun, whimsy and vibrant color are the key ingredients to Phyllis' art.
Phyllis' art is both character and icon driven and pattern creation. Her characters are based mostly on animals, primarily cats and dogs, that she gives personality and unique individualism that will make you smile. She also uses nature themes such as flowers, coastal elements as well as other popular subjects.
Phyllis creates random and geographic patterns in collections or to accent her main images. Her patterns have timeless appeal and are created in her signature bold and colorful style.
All of her collections include the coordinating images, icons, word sayings, borders and other elements to pull an entire product line together.
For information on licensing Phyllis' art, please contact her agent,
Jewel Branding and Licensing.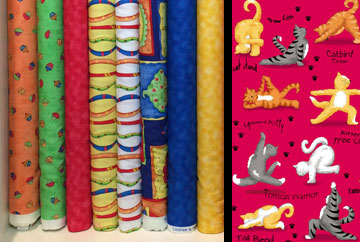 Fabric Design
Phyllis designs premium fabrics for
Quilting Treasures
that are sold worldwide in independent quilt shops. Her fabrics are used to create beautiful quilts, clothing, accessories and home decor items.
Her fabrics are infused with the whimsy style and the passionate, vibrant colors that she is known for. Phyllis' fabric collections can be viewed on this site.
Phyllis lets her fabrics and color guide her to create unique quilt and sewing patterns that are offered both on her blog and here on this site in her store. She also creates patterns for the Quilting Treasures' website for free download and for books and magazines.
Hint - its in the Products section at the bottom of a page: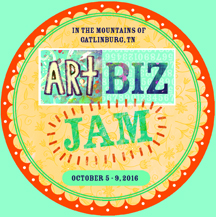 ArtBizJam Retreat
Phyllis teaches classes, lectures and workshops throughout the US for quilting and sewing and for art licensing. Phyllis is the founder of ArtBizJam, a unique artist retreat to aid artists in growing their art businesses.
ArtBizJam
- An artist retreat unlike any other artist event, ArtBizJam combines both creativity and business for artists who want to expand their art business and reach their goals (as well as create new goals). ArtBizJam 2016 was held in the Smoky Mountains in Gatlingburg, TN October 5 - 9, 2016. We are working on ArtBizJam 2017, our 5th and will announce the details early 2017!
Sign up to receive all news on patterns, fabrics and more. We promise not to spam you!
Thanks for visiting! I would love to hear from you!